The New Epoch of Rock Drilling: Redefining Standards with John Henry's Innovative Pipeline Rock Drills
Every industry has its trailblazers, the pioneers who define and refine the essence of the norm. In the realm of drilling, that trailblazing reputation belongs to the renowned John Henry Drilling company. Nestled in the heart of Charleston, WV, our company has made a name for itself as a bastion of superior craftsmanship and exceptional quality. With a team comprised of highly seasoned industry veterans, we pride ourselves on creating rock drilling solutions that not only meet the standard for efficiency, durability, and reliability but raise the bar even higher. Our flagship product, the John Henry Pipeline Rock Drill, is set to redefine the drilling industry, propelling operations to new heights of innovation and performance.
Harnessing the Power of Innovation: Pipeline Rock Drill, A Masterpiece of Engineering
The John Henry Rock Drill, our premier pipeline rock drilling machine, is more than just an impressive piece of equipment. It is a shining symbol of our unwavering dedication to the principles of quality, innovation, and excellence that define our company. Each rock drill that comes out of our state-of-the-art facilities is the result of a meticulous design process that takes into account the unique and multifaceted challenges of the drilling industry. By doing so, we are able to craft rock drills that consistently meet and exceed the expectations of our valued clientele.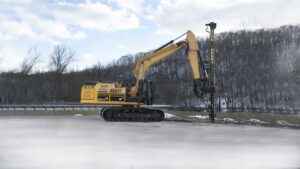 But we are more than just manufacturers and suppliers. We see ourselves as partners to our clients, and collaborators in their endeavor to tackle the most challenging rock drilling tasks. Each John Henry Rock Drill is engineered with the client's specific needs in mind, a testament to our commitment to providing tailored solutions that make a difference.
The John Henry Rock Drill: Built to Last
Durability and reliability are hallmarks of the Pipeline Rock Drill. Each machine we produce is a testament to our deep understanding of the industry's demands and our determination to deliver solutions that can withstand even the harshest drilling conditions. Our team of highly experienced mechanics, each boasting over 15 years of hands-on experience, leverage their in-depth knowledge of rock drilling dynamics to build rock drills that are designed to last.
The John Henry Crew: A Brotherhood of Drilling Excellence
When you join the John Henry Crew, you are aligning yourself with an elite group of drilling professionals who value integrity, performance, and client satisfaction above all else. We view each partnership as an opportunity to provide more than just a top-of-the-line pipeline rock drill. We also offer our clients access to a wealth of knowledge and experience, as well as comprehensive support that ensures their every drilling need is met to the highest standard.
As the creators of the world's premier drilling machine, John Henry Drilling is dedicated to ensuring your projects are completed with maximum efficiency, unparalleled safety, and precise accuracy.
Engage with the John Henry Drilling Experience
Our home in Charleston, WV, is more than just a location. It is a hub for rock drilling innovation, a place where questions are answered, concerns are addressed, and the ideal drilling solution for your project is identified and provided. As a customer, you become a valued member of our family, sharing in our commitment to achieving success. We are just as invested in your success as you are and are dedicated to providing unrivaled service every step of the way.
Are you ready to experience the efficiency, reliability, and power of the world-renowned John Henry Rock Drill? Do you have questions about our services or need more information? We invite you to contact us today. Our team is always ready to provide the superior experience that is synonymous with the John Henry name.
At John Henry Drilling, we do more than just manufacture drills. We create rock drilling solutions designed to endure and excel. Step into the future of rock drilling with the John Henry Crew and discover why we are the preferred choice for professionals who prioritize quality, durability, and excellence in their rock drilling operations. With John Henry Drilling, you're not just buying a drill, you're investing in a solution that lasts. Contact us today!