The John Henry JH20/323 – Excavator Mounted Rock Drill
The JH20/323F consists of the full capacity 20′ feedshell option of the John Henry Rock Drill on the highly reputable Caterpillar excavator platform. Excellent penetration rates are achieved by dedicating full power of the excavator to drilling functions.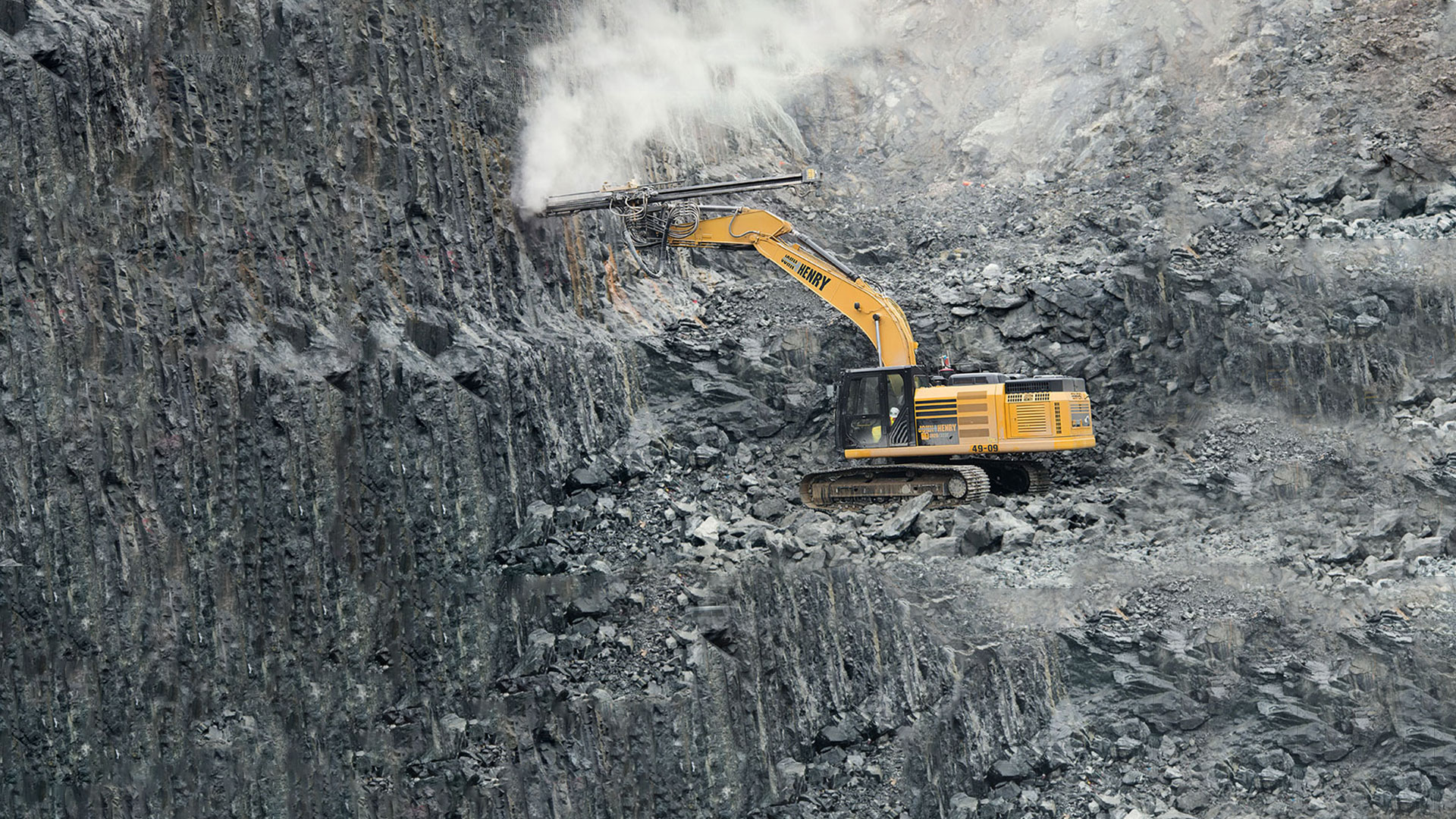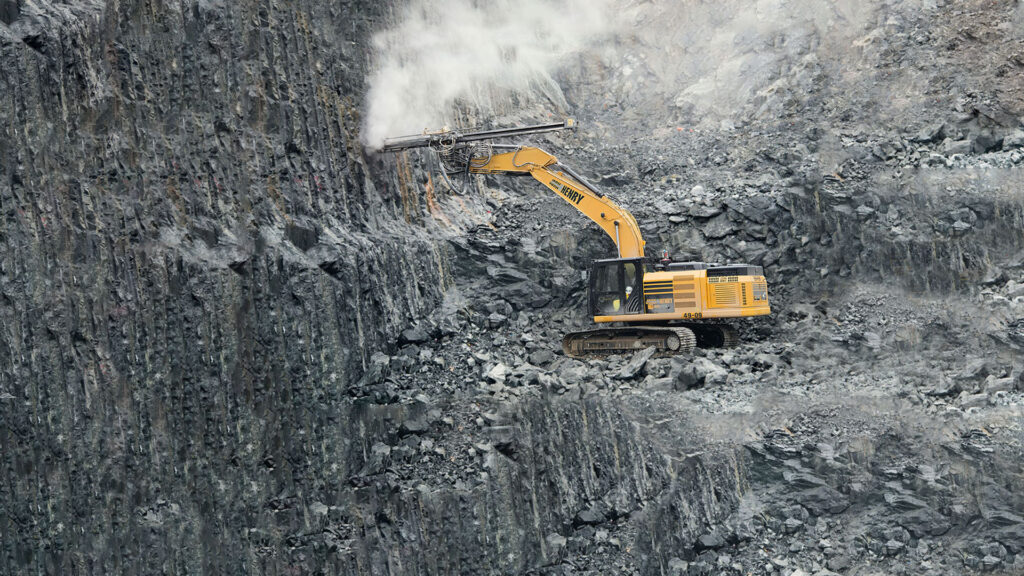 The following components are included:
Feed
Heavy Duty tubular steel design with a 20' leading rod capacity. Stainless steel feed rails are combined with low friction Nylatron slides for smooth drifter travel. Variable feed pressure is applied through a motor/gearbox/ chain combination providing 30,000 lbs retraction force. An extendable single point foot provides a secure hold for accurate positioning. Hydraulic centralizers with replaceable inserts are included.
Drifter
"Dry Fire" model and simple design providing over 350 ft. of impact energy per blow and up to 2000 blows per minute. Designed for drilling with T38, T45, or T51 steel, this model drifter provides excellent penetration in holes ranging from 2 ½" to 4.5" in diameter.
Compressor
The John Henry compressor is rear mounted (in lieu of the counterweight) and provides 375 cfm of flushing air at a maximum pressure of 150 psi. This oil flooded rotary screw design is powered by a CAT 130hp diesel engine. The volume of air delivered for flushing is variable from the operators control panel.
Hydraulic System
The excavator is the primary source of power for all hydraulic John Henry drill functions. A dependable pilot operated hydraulic system (not an electric system) is used to direct the flow of oil to the drill package. Standard excavator functions and controls are not affected. Heavy-duty steel tubing is used in combination with hydraulic hosing for all hydraulic connections.
Controls
The control panel, located in the operators cab, contains pilot controls for tilt, rotation, air, feed, and impact. Rotation speed, feed pressure, air volume, and water suppression are all fully adjustable from this panel. Feed pressure and air pressure gauges are located here as well. An electronic level indicator is standard.
Dust Control
A water suppression system is provided. A hydraulically driven duplex pump transfers water from a stainless steel 60-gallon tank into the flushing air stream. An optional Dry Type 900 CFM dust collection system is available upon request.
Accessories
Allows operator to add (1) 16' rod from cab allowing total drilling depth of 35'.
The Optional dust collection system can be added when air born dust is regulated or the standard water dust control is not an option for the project. The vacuum system captures the dust and distributes it gently tot he ground to minimize air born particles.